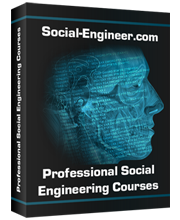 10-14 May, 2021 Masters Level Social Engineering - Orlando, Fl
SKU 00018
Product Details
LOCATION: he Rosen Centre 9840 International Drive, Orlando, Florida 32819, United States

DATES: 10-14 May, 2021
LOCATION:
This course will be held in beautiful, sunny Orlando, Fl at The Rosen Centre 9840 International Drive, Orlando, Florida 32819, United States (Discount code for room after registration)
Course Description:

This class is literally like nothing you have ever seen before. It is available only to students of our Advanced Practical Social Engineering course.
It is a 5-day full immersion into social engineering. You will phish, vish and even conduct onsite reconnaissance in this class. If you enjoyed APSE but need to take your career to the next level in the exciting and fun world of social engineering this is the next piece of your puzzle.

We are limiting this class to the first 16 students, and it will only be taught ONE time this year.
We will provide: 5 days worth of learning materials, a classroom setting, lunch each day, refreshments during the day and additional resources in the form of specialized software licenses as needed for the training.
You will need to bring:
A will to learn and expand your horizons
A laptop loaded with basic software (details will be emailed once you are registered). Be aware, iPads are not sufficient for this training.
Hotel: You may stay at any hotel you like, but we encourage you to stay where we are training for maximum MLSE experience.
Class Schedule:
Every day starts at 0900 and ends at whenever we end, on Friday we end at 5 then do a group dinner. PLEASE plan accordingly.
PRICING:
$6000 is the price for this class
** Cancellation Policy: If Social-Engineer cancels a course for any reason you will receive a full refund.**
For student cancellations:
90+ Days = 100% refund
60-90 Days = 75% refund
45-60 Days = 50% refund
30-45 Days = 25% refund
Under 30 Days = 0% refund
Save this product for later